USA Shipping, LLC
USA Shipping, LLC is the NVOCC division of USA Cargo Services
We have contracts with several steamship lines on FCL (full container loads) as well as LCL (less than container load) cargo which enables us to offer competitive rates to worldwide destinations.
With various carrier options we are able to offer our customers the best combination of cost and transit time.
With a global agent network (Global Freight Group) our customers have access to a wide variety of transportation services.
Why USE AN NVOCC?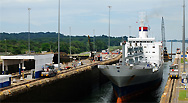 1. Reason one

As a shipper, you might not have contracts with all the steamship lines that can service your business

2. Reason two You have one company to turn to for Door-to-Door service anywhere in the world.
3. Reason three Quicker, trouble-free documentation
4. Reason four You don't have to have a lot of cargo volume to enjoy very competitive rates
Global Freight Group

The Global Freight Group was born on the USA East Coast, in 1994 by six local companies who joined forces, with the intention of sharing skills and expertise, co-operating and learning together in order to create an even stronger service base, while maintaining their individual identities. This has grown into the current group that has partners in 12 US states and 54 countries, with offices and/or logistics facilities in over 200 cities worldwide. It continues to grow steadily, but selectively.
The Global Freight Group is a non-profit organization, run for the benefit of its members. It aims to provide the opportunity for independent companies to effectively compete in new and existing markets on an equal level with the larger multinational forwarders and brokers.
The Global Freight Group manages to keep its costs low because it is driven by a voluntary Board of Directors, chosen by the members themselves. The group does not seek to benefit financially from its members but instead, allows them to benefit from the vast experience and expertise within the team that leads it. The President of the group, Marina Marzani, is also Vice President of the group's Italian member, Esse Emme. Similarly, the Board of Directors was democratically elected from member companies, each one being senior personnel, if not owners. Their own expertise covers three US states, Europe, the Middle East and Asia.
The group employs one member of staff, located in Woverhampton, England, to handle all administrative matters and conference organization.
For more details about the Global Freight Group, see their
Website:
www.globalfreightnet.org
Demurrage and Detention charge:
Dispute resolution process
Contact Ashley Mordecai, our NVOCC Director, at (770) 951-2155